Split Wyes – Product Specifications
&

Features
Description
Conduit Repair Systems, Inc.'s ("CRS") split wyes are a high-grade, rigid split conduit fitting produced from virgin polyvinyl chloride (PVC). Designed for commercial, industrial, and utility applications, CRS's PVC split wyes are proven to provide durable and effective performance in underground, encased, and above ground exposed applications. The wyes are an easy-to-use, two-piece fitting that simplifies the process of creating or joining a branch line in a conduit run. The split wyes are used with split couplings to connect the wye to split conduit or standard conduit.
CRS's split wyes are designed for many cable and conduit applications including:
Electric Utilities
Cable, data, and communication lines
Industrial and commercial buildings
Street and Highway underground feeds
Transportation Systems – airports, bridges, subways, and tunnels
Enclosing direct buried cable
OEM applications
Residential electrical applications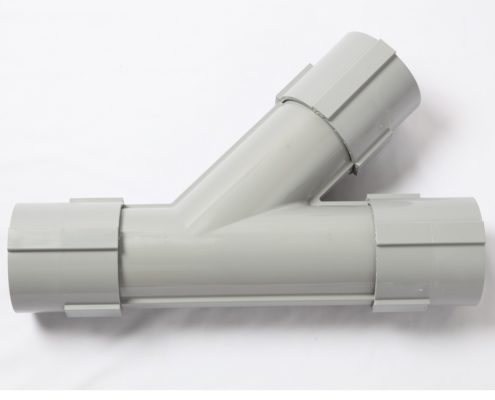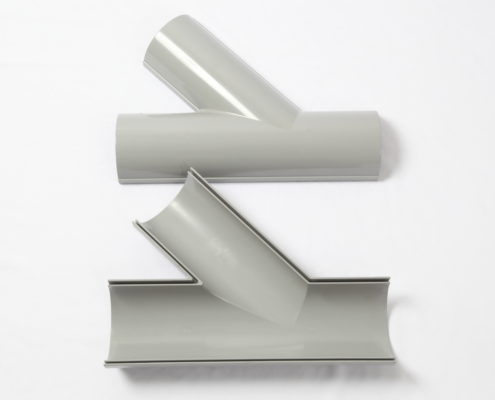 Material
CRS's split wyes are produced with the following material:
YL-700
UL Approved Material (UL File #: E464586)
YL-700 is a special purpose, rigid PVC profile extraction compound, which is designed for profile injection molding and applications requiring the following properties:
Weatherability
Impact Strength
Durability
Dimensional Stability
Flame Retardant
Chemical Resistant
Codes and Standards Compliance
CRS's split wyes have been independently tested by Intertek and certified to UL 651* and are approved for use in electrical applications in accordance with the National Electrical Code. The listed products are identified with the ETL Listed Mark. Additionally, the split wyes are manufactured in accordance with NEMA TC-2.
Please visit www.intertek.com for detailed ETL Listing information.
*The ETL Listing does not apply to CRS's 1" schedule 40 and 4" c-duct products.
Important Information
Use of CRS's split conduit products should be done in accordance with the product's installation instructions. All safety guidelines in the National Electrical Code related to the installation of schedule 40 and schedule 80 conduit shall be strictly followed.
We believe the information contained in this specifications sheet to be reliable and accurate to the best of our knowledge, but we cannot warranty for process and applications beyond our control.